Customer feedback

Customer feedback
【Product impressions】
←←The contribution to this
(Musician)Dennis Carroll
The Reggie Thomas Quartet - "Everything I Love" - Sessions from Studio A (Youtube)
The Reggie Thomas Quartet - "Dennis Carroll & The Step Band livestream @FSC (Youtube)
(Musician)Yamato Moritake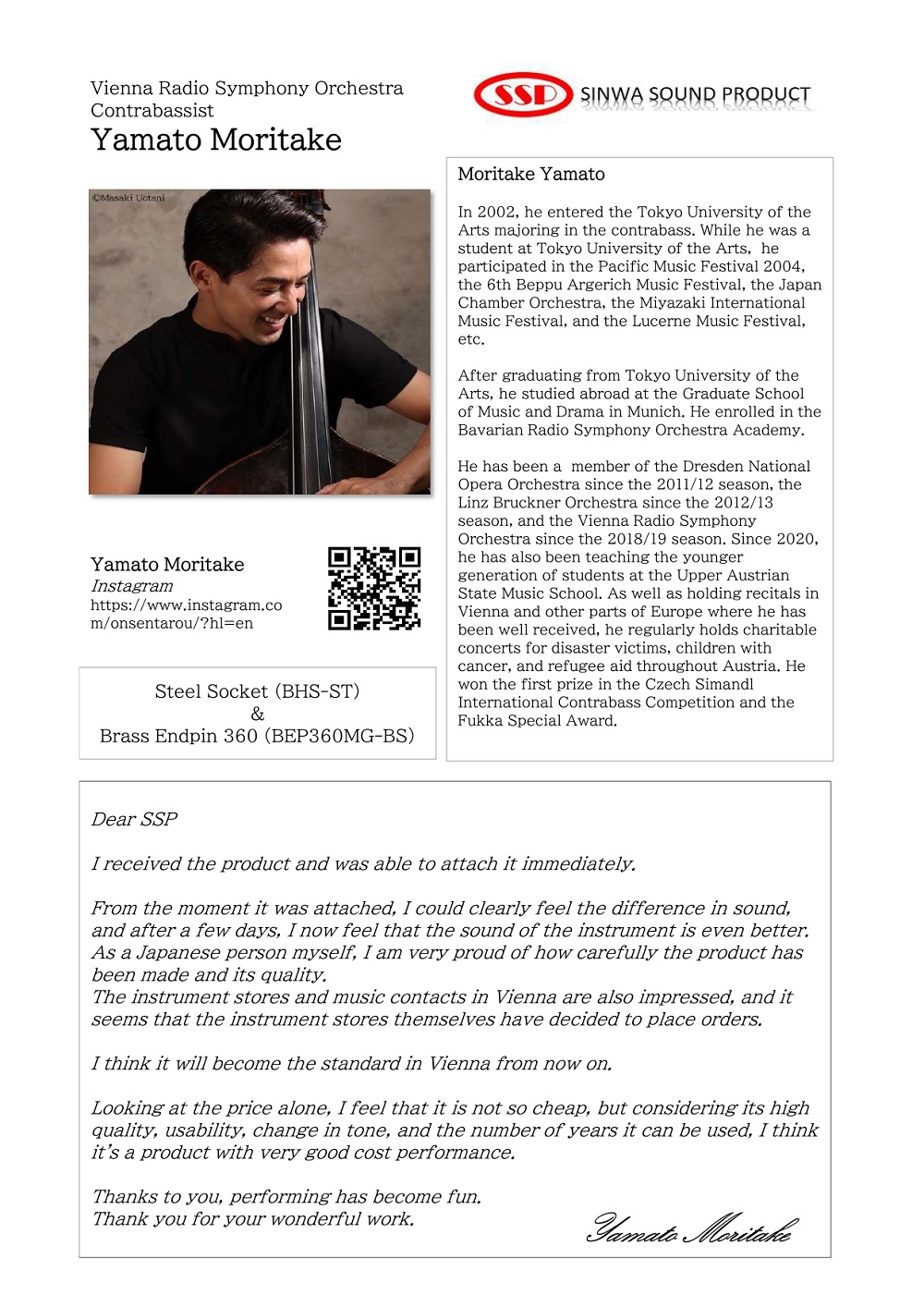 Yamato Moritake (Instagram)
(Musician)Hiroshi Ikematsu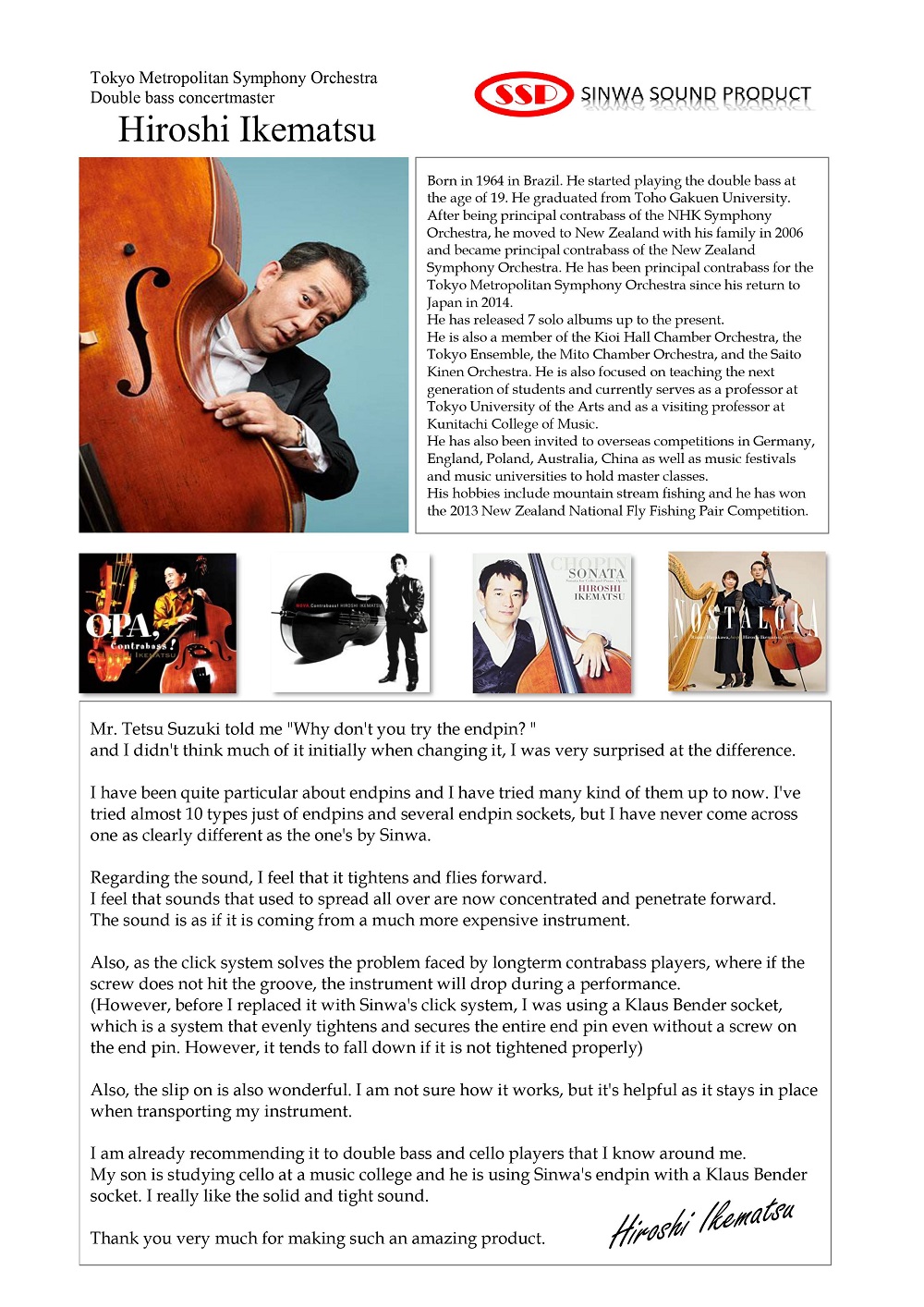 Tokyo Metropolitan Symphony Orchestra
(Luthier)Tetsu Suzuki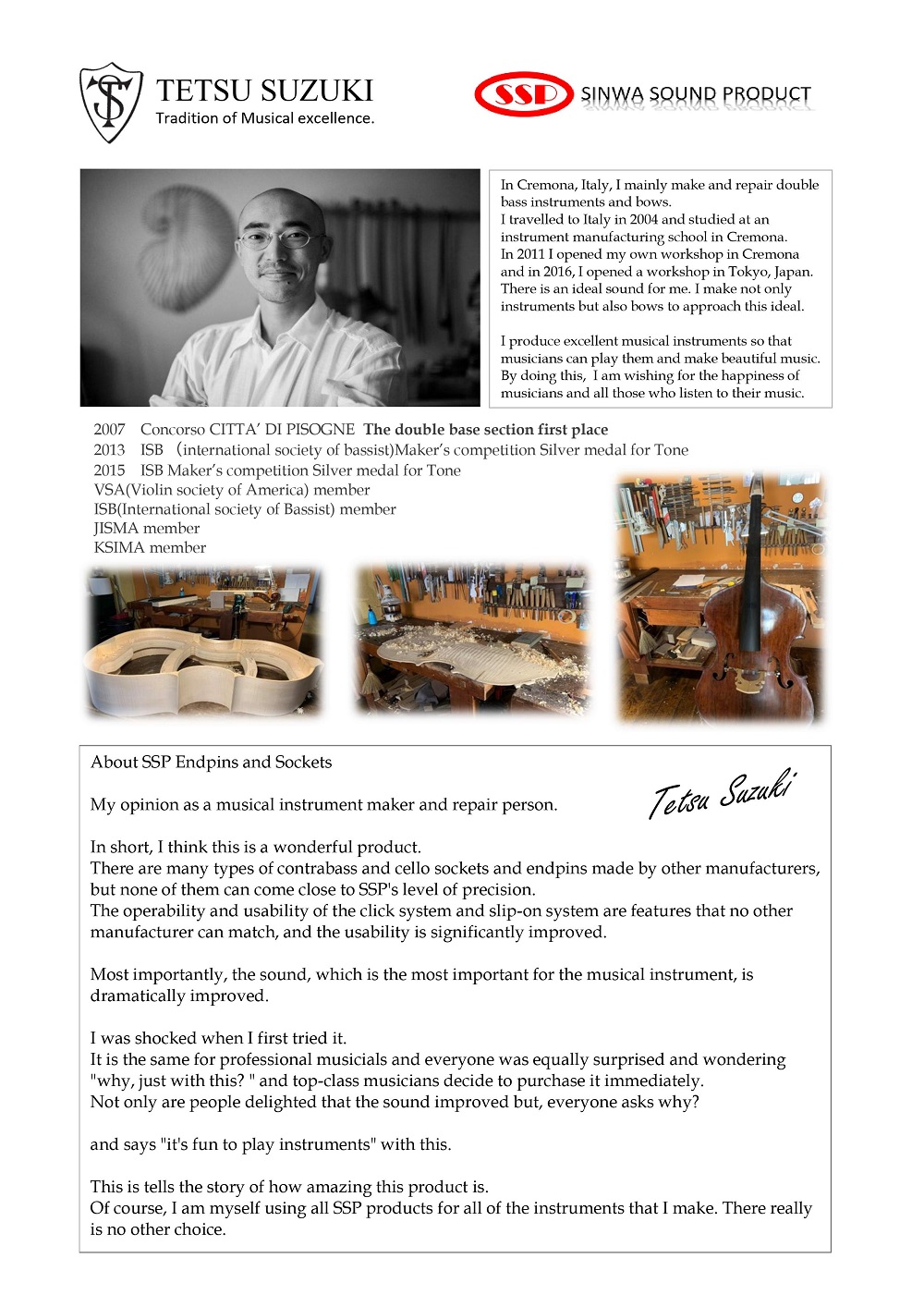 Tetsu Suzuki Website
Buyer of a Gliga Click-System (changed to a brass endpin)
Mr. Oshiro (Okinawa Prefecture)
I'm writing to briefly share my reactions to the Gliga Click-System (with brass endpin).

I use a 2016 〇〇〇〇 double bass of an original design.
About a year ago, the endpin area started rattling, which was quite a problem for me.
I wasn't sure how to resolve the issue, so I first tried an endpin made by another company. I even tried adding more washers, but it didn't go away. I figured I would have to replace the endpin socket altogether, but I didn't have time to send it out for repairs, so I was using every trick in the book to eke out more performance.

Finally, I found your product and set it up right away. It was easy to install, and the Click-System lets you adjust the height with ease. This has totally done away with the rattling.
The slip-on system is easy to use and highly convenient.
Furthermore, the overall timbre seems to have softened.

If you are living in a remote region and can't find a local repair shop, this product may just be the solution for you.
Plus, the product is attractive and well designed.
Buyer of a Gliga Click-System (changed to a brass endpin)
Ms. Kudo (Niigata Prefecture)
Thus far, I had used grooveless stainless steel endpins, but I always had a creeping fear that my double bass would slip and fall while playing.
Thanks to the Gliga Click-System, I can now perform with total peace of mind.
I ordered it in brass, and the sound seems to have a larger stage and be softer after using it.
The vibrations solidly travel from the endpin to the floor and to my feet. The children tell me the sound seems bigger, too.
Plus, the quality and timbre have also improved and are more attractive.

I am extremely satisfied with this product.
Looking forward to more excellent items from you.